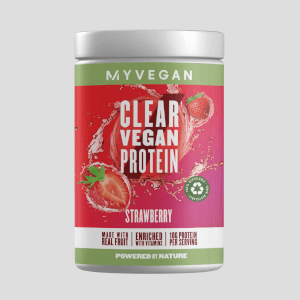 Get Clear Vegan Protein Powder from Myvegan. Now starting from: £17.49.
Reasons we love Myvegan
Free delivery available (conditions apply)
100% vegan.
Approved by The Vegan Society (authentic international vegan standard). Means their products have to pass strict criteria to be awarded with it.
Member of the Vegetarian Society.
1 tree is planted for every app download
Recyclable packaging.
5 star rating from the Environmental Health Office (EHO) for exceptional hygiene standards.
Real Customer Reviews for Myvegan
Beky

Love it. Tastes just like juice! I love all the flavours. Taste so much better than normal protein.

Happy

Couldn't handle powdery shakes so took a chance buying the Strawberry & Pineapple & Grapefruit. Both juices are non powdery and simple to mix giving me my required protein intake. Both juices are very sweet with Strawberry being my fave. The Pineapple & Grapefruit tastes mostly of pineapple. A good product that I will buy again!

Amy

I originally ordered the sample packs in Strawberry and Lemon&Lime and was unsure. Decided to take the plunge when I saw that Apple and elderflower flavour was available, I love elderflower and this protein powder is no different! It mixes incredibly well, there's no gritty-ness and it tastes just like squash to me!! This protein powder is going to become a staple for me, love it 🙂

Jem

outstanding flavour and texture.
I did not know I needed clear fruity protein powder. But now I do. So good, low foam, refreshing, 10 grammes of protein per serving with a great light texture and flavour.

Rose

All the samples are fantastic, after purchasing this I will definitely be getting the banana protein powder!

Kat

Love it. I think this box is perfect for people who aren't sure what flavour to get or they want to try out new products! I would say it's definitely worth the money x
Valid Till December 31, 2025