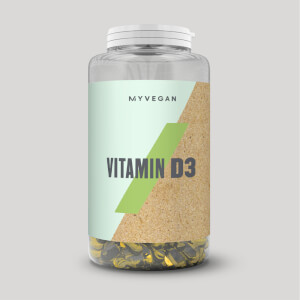 Get Vegan Vitamin D3 from Myvegan. Now starting from: £3.89.
Reasons we love Myvegan
Free delivery available (conditions apply)
100% vegan.
Approved by The Vegan Society (authentic international vegan standard). Means their products have to pass strict criteria to be awarded with it.
Member of the Vegetarian Society.
1 tree is planted for every app download
Recyclable packaging.
5 star rating from the Environmental Health Office (EHO) for exceptional hygiene standards.
Real Customer Reviews for Myvegan
Ludmila

This is refreshing drink after exercise. I love the flavour, it blend well. I will be ordering more later.

Danielle

The Vegan Sample Box is a great way to try the main products offered by MyVegan. I was pleasantly surprised by all the different protein flavours (chocolate is my favourite) as previous brands have never tasted nice. The protein bars were also yummy, even the peanut butter one which I don't usually like. The BCAA flavours are great, which I've been having after work, definitely a better choice than buying an energy drink alternative. I'm still to try the pancake mix but the flavours look appealing. I've tried most of the samples over the past two weeks on and off, and have felt the benefits on the days I take them as my work is quite physically demanding. 100% ordering more protein, BCAA, and protein cookies which are absolutely lush!

Kat

Love it. I think this box is perfect for people who aren't sure what flavour to get or they want to try out new products! I would say it's definitely worth the money x
Valid Till December 31, 2025